By MICHAEL AMAKOR | January 9, 2015
In all sports, particularly in the combat blood sport of boxing, fighters fight each other. The winner then goes on to fight and defeat progressively elite contenders before challenging and defeating the reigning titlist to become Champion.
That would be the logical sequence of events in any combat sport, but currently in boxing, even though a champion emerges through those sequences of events, he becomes just another champion amongst a group of rival champions from other organizations challenging the public's presumptions and perceptions about his championship supremacy.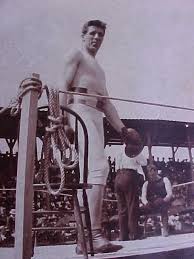 It was not always that way, over a century ago, Gentleman Jim Corbett knocked out John L. Sullivan in 1892 to become the first universally recognized World Heavyweight Champion in the modern era of boxing traced to the Marquess of Queenbury rules introduced in 1895.
The world titles in the various weight classes were passed on from one champion to the next for several years until the National Boxing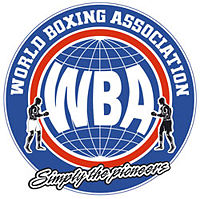 Association created in 1921 changed its name to the World Boxing Association (WBA) in 1962 and began crowning champions. In 1963, the World Boxing Council (WBC) was formed, followed by the International Boxing Federation (IBF) twenty years later to make it a threesome series of champions in the various divisions. The now respectable World Boxing Organization (WBO) and International Boxing Organization (IBO) joined them to make it a crowd in 1988 and the fringe IBA, IBC, IBU, UBO, WBF, WBU and a host of regional organizations turned these title awarding bodies into a mob of complicated interests over time.
Ring Magazine, the oldest publication in boxing began awarding Ring Magazine belts back in 1922 which were generally acknowledged as being awarded to the best fighter in a division. But over time Ring magazine lost a lot of credibility after they were found to have fabricated the records of certain fighters in nominating them for its belts and they stopped awarding them in the 1990′s altogether. Ring Magazine resumed awarding belts in 2002 and introduced a new championship policy which it reintroduced again in 2012 to handle some of the new developments in the sport. Ring Magazine Belts have provided some clarity about the best champion of a division but other boxing organizations like theTransnational Boxing Ranking Board and other independent boxing aficionados maintain parallel policies and formulas to come up with other fighters or champions they consider to be the best in a division.
To add to the complication of figuring out the true champions , the WBA and WBC now have a tradition that is becoming more common place of designating certain fighters as interim, regular and super champions due to contractual and legal restraints some of its titleholders and ranked fighters have to deal with before they can fight in part when they first started.
Besides these accommodations, boxing organizations now not only have to contend with powerful promotional outfits like American based Golden Boy Promotions, Main Events, Top Rank and Sauerland Events in Germany, but influential managers like American based Al Haymon.
Despite all these complications, unified champions have nevertheless emerged through the concerted efforts of TV networks teaming up with promoters, managers and sanctioning bodies to boost ratings. When these forces are properly aligned they enjoy record subscribership as the Cruiserweight (1988) Middleweight (2001), bantamweight (2011) and long drawn out Super Six World Boxing tournaments (2009-2011) have all shown. At the conclusion of these tournaments, there is always a tremendous amount of satisfaction amounting to bragging rights by everybody involved.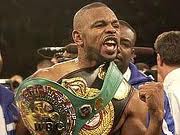 However, no sooner does a unified and undisputed champion emerge then he runs into a storm of issues mostly involving having to fight the mandatory challengers of these respective organizations. If those issues are resolved the champion holds unto all his titles as former champions Roy Jones and Bernard Hopkins once did.
Besides being able to keep their titles, Roy and Bernard were able to make several unified title defenses in part because the enjoyed the support of HBO and everyone else involved who were willing to pay sanctioning fees to these organizations and smoothen out other issues because of their box office appeal and contractual obligations owed to both fighters generally.
In most cases however, a champion grudgingly abdicates or allows himself to get stripped of a title(s). His refusal to face his mandatory challenger might be because his team decides not to pay the sanctioning fees demanded by that organization because it makes no financial sense. Getting stripped of a title also gives the fighter and his team freedom to pick and choose their next fight and helps them avoid legal complications and actions by a snubbed contender as well.
These scenarios play out quite frequently and new champions emerge while the division loses the presence of a dominant unified champion. This situation has obviously become confusing to boxing fans who have no idea who the champion of a division is any longer, unlike as was the case in the past when single champions reigned supreme with a clear public abdication loss to the next champion. It has also not helped that the number of divisions have increased over the years making it seem as if there are just too many champions in boxing today.
The reality of the situation is that many of these boxing organizations are here to stay and will increase with time. This is due in part to the growth of boxing and the demand for new organizations to cater to regions of the world not competitively engaged by they current organizations mostly based in North America.
One of the only ways of dealing with this confusing situation of trying to figure out the best fighter or champion in a division is to have them fight each other in a yearly or semi-annual boxing tournaments, that is they only way to tell who the best fighter truly is.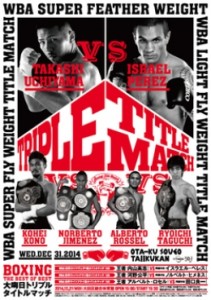 A move towards a tournament solution has been unwittingly initiated by elements in the Empire of Japan who have many champions, both former and current in the weight divisions south of 122 pounds and who have hosted year-end tournaments to either unify or to have various fighters or champions from around the globe compete against their champions and vice-versa for a few years now.
These year-end tournaments are becoming more popular in Japan but the idea has not caught on with the rest of the world just yet. Boxing would benefit greatly if other boxing crazed enclaves like Mexico, Puerto Rico, Germany and South Africa joined the fray to host international tournaments of their own to clear up divisional "Que es mas macho".
The need for unified and undisputed champions in each division through tournaments was recently acknowledged by the IBF, WBA & WBC after their joint summit in June when they announced among many other things that they are working on a formula to unify the championships of the various divisions with a target date starting in 2016.
This is a welcome development for the sport of boxing, but before we reach 2016, and as is typical of American football with its fantasy prediction leagues, we shall go ahead and fantasize about the prospects of Unified and undisputed champions emerging in each of boxing's seventeen weight divisions in 2015.
HEAVYWEIGHTS (200+)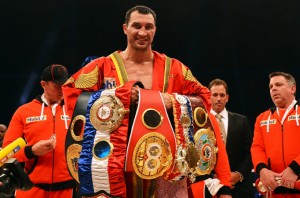 IBO – Wladimir Klitschko (Ukraine)
IBF – Wladimir Klitschko (Ukraine)
WBC – Bermane Stiverne (Canadian)
WBA – Wladimir Klitschko (Ukraine)
WBO – Wladimir Klitschko (Ukraine)
WBU – Mark De Mori (Germany)
Since the modern era of boxing and indeed from the first time fighters have laced up gloves the heavyweight division has always held the fascination of the public because it usually has the biggest, strongest and most brutal men in the sport.
The heavyweight has always been used as the barometer used to gauge the popularity of the sport after super stars like Jim Jeffries, Jack Johnson, Rocky Marciano, Mohammed Ali and Mike Tyson to name a few captured the fascination of the world.
Indeed, the concept of a unified and undisputed world champion first entered boxings lexicon after the brutal knockout rise of former heavyweight champ Mike Tyson through the heavyweight ranks and his even more manic knockout destruction of Trevor Berbeck, James Smith, and a decision over Tony Tucker the respective champions of the WBA, WBC and the IBF in 1986 to become the first and youngest Unified and Undisputed heavyweight champion of the world.
It was such a menacing awe-inspiring moniker repeated and amplified in significance alongside highlight reels showcasing his brutal knockouts on TV and on the Classic Sports Network series that it got hardwired into the minds of boxing fans, even after his premature "Upset of the Century" dethronement all the way back in 1990.
Presently fans cannot discuss boxing without sometimes coming to the faulty conclusion that there is a vacuum in boxing's 17 weight divisions mostly because no awe-inspiring champion has emerged to unify the heavyweight division in the frenzied Tysonistic manner  the remember.
Even when there is a dominant champion in a division this yearning for a unified and undisputed champion still lingers and has subconsciously filtered down to the lower weight divisions.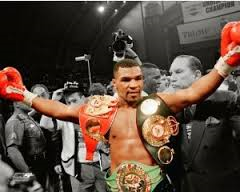 As previously, mentioned, Mike Tyson was the first champion to unify the WBA, WBC & IBF title in the division. He lost all his titles to Buster Douglas in the upset of the century. Lennox Lewis was the last undisputed champion after defeating Evander Holyfield and was awarded the IBO belt afterwards to booth. Lewis was eventually stripped of the WBA shortly afterwards due to a contract dispute and boxing has only had partially unified champions ever since.
The heavyweight division's championship picture has been stable in the past few years with the dominating reign of the Klitschko brothers with Wladimir Klitschko (63-3, 53 KO's) still holding unto the IBO, IBF, WBA & WBO titles in 2014. He is the most visible and most recognizable champion in the division, and he made two unified title defenses in 2014. There are now talks of him facing his #1 ranked IBF challenger Bryant Jennings in April 2015.
The one and only change in the heavyweight division was the emergence of Bermane Stiverne (24-1-1, 21KOs) as the new WBC which he captured by stopping Chris Arroela in three rounds for the belt abdicated by Vitali Klitschko, Wladimir brother to become a politician. WladimirWladimir is now set to make the first defense of his title against #1 ranked contender Deontay Wilder (32-0, 32KOs) in a fight scheduled on January 17, 2015.
If Wladimir gets past Bryant Jennings, he will be available to face the winner of the WBC title fight between Stiverne andWilder in a super fight in Germany, as it is the only true path to an enormous payday  that will be available to the new champion if it can be arranged. In case there is a momentary delay to that fight taking place, Wladimir could seek to quickly seize the WBU title from Mark De Mori (28-1-2, 24KOs) to add to the unification excitement in a fight that cannot be turned down. Unification will unravel however if Mark pulls an upset, but Wladimir may win the rematch, so make it happen.
If everything goes according to plan we should look forward to a fight between Wladimir and the winner of Stiverne vs Wilder in late 2015. However, anything can happen in boxing to stop an event. The only good news is that even if the fight does not happen, Wladimir Klitshcko is universally recognized as the champion of the division, we only wished he could officially seal the deal by title unification.
Cruiserweight/Jr. Heavyweight (200 lbs)
For more information visit Cruiserweight Boxing News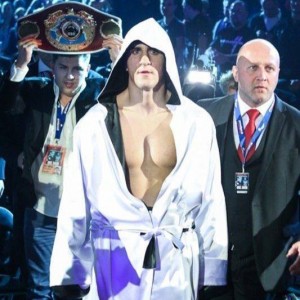 IBO – Ola Afolabi (UK)
IBF – Yoan Pablo Hernandez (Germany)
WBC – Grigory Drozd (Poland)
WBA – Denis Lebedev (Russia)
WBO – Marco Huck (Germany)
WBU – Roy Jones, Jr (USA)
The last unified boxer to unify this division was O'Neil Bell who defeated Jean Marc Mormeck to become the IBF, WBA and WBC champion. He was stripped of the IBF title shortly after that fight and this division has not seen a unified champion ever since. A few former champions like David Haye unified the WBA, WBC & WBO titles only to shortly step up to the heavyweight division before he could unify all the premier belts.
At the beginning of 2014 we started out with all the current champions except Gregory Droid (39-1, 27KOs) who defeated Krzysztof Wlodarczyk for the WBA title in September.
In 2014 the IBF ordered Hernandez (29-1, 14KOs) to defend his title against IBO champion Ola Afolabi (21-3-4, 10KOs) that fight scheduled to take place in December fell through and was not even billed as a unification fight.
WBO champion Marco Huck the number one ranked fighter in the division stopped Firat Arslan in a rematch and went 12 rounds with Mirko Larghetti to still remain champion at the close of 2014.
In 2014 we had hoped that a unification fight between German based Marco Huck (38-2-1, 26KOs) and Yuan Hernandez was set to happen, but the fight never developed any traction even in boxing crazed Germany. The entry of former multi divisional champ Roy Jones (59-8, 42KOs) into the division did not provide the necessary spark for unification either despite his not too strident calls for a fight with none of the champions in particular. He made two lack luster defenses of his WBC title against journeymen to close out 2014.
In 2015 expect to see each of these champions engaging in safe title defenses. Also look forward to at least one vacancy as #1 ranked Marko Huck has expressed an interest in stepping up to the heavyweight division to challenge Wladimir Klitshcko.
This situation could potentially still be avoided if a unification contest can be arranged between Huck and Hernandez who are both based out of Germany. It makes a lot of business sense for the sanctioning bodies and promoters to come together to promote a mega fight in boxing crazed Germany but it has not happened yet and does not appear likely in 2015, but if the Hernandez vs Afolabi fight cannot be rescheduled, who knows.
Light Heavyweight (175 lbs)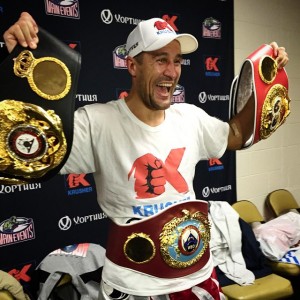 • WBC – Sergey Kovalev (Russia)
• WBA – Adonis Stevenson (Canadian)
• IBF – Sergey Kovalev (Ukrainian)
. WBF – Tony Averlant (France)
• WBO – Sergey Kovalev (Ukrainian)
They last universally recognized champion in this division was former champion Roy Jones, Jr who from 1997 through to 2002 completely dominated the Division by winning the WBC followed by the WBA, IBF, IBO, IBA and WBF titles in one straight fell swoop to become the unified champion of the division, but he still never got to hold the WBO title.
He eventually stepped up and back down from the heavyweight division. He got stripped of the IBF title along the way before losing the rest of the titles to Antonio Tarver who thereafter was stripped of all except the IBO title in 2004 and no champion has completely dominated the division ever since.
Starting from about 2013 however, the division received a massive dose of adrenalin with the shocking emergence of Stevenson and Kovalev into the championship ranks to join the ageless wonder Bernard "The Alien" Hopkins, the IBF champion in 2013.
Hopkins started off the unification festivities in 2014 by unifying his IBF title with Beibut Shumenov's IBA and WBA titles. He followed that up with a historic unification bout against WBO Champion Sergie Kovalev and in a
"memorable fight" he lost the fight by unanimous decision. Kovalev (26-0-1, 23KOs) is now the unified IBF, WBC & WBO champ.
WBA Champ Adonis Stevenson (25-1, 21KOs) also had a good year, which included putting a spirited down a spirited attack from Fonfara and Sukhutski in 2014.
Kovalev's victory over Hopkins sets up a potential battle for supremacy with WBC champ Adonis Stevenson which none of them will be able to escape even though the each fight under rival promotional banners and despite Stevenson's expressed lack of enthusiasm for the fight.
However, Kovalev is already scheduled to defend his titles against former champ Jean Pascal in Canada in March 2015. If Kovalev wins that fight, all roads will lead to unification with Stevenson in a battle for the ages in late 2015.
It is not a question of if this fight will happen; the question is simply when will it happen. We can only hope that Kovalev holds his own end of the bargain in this movement towards unification by getting past Paschal.
Of course the unified champion crowned in North American can travel over the seven seas and have a David versus Goliath contest France's Tony Averlant (20-8-2, 20KO's) in his first world tour that the excitable French will commit all resources to score an upset on French Soil.
Lets keep dreaming along shall we.
 Super Middleweight (168 lbs)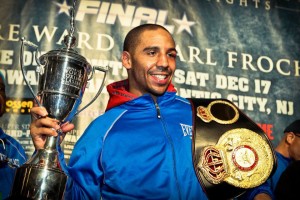 • WBA – Andre Ward (USA)
• WBC – Anthony Dirrell (USA)
• IBF – Carl Froch (UK)
• WBO – Arthur Abraham (Germany)
. WBF – Bernard Donfack (Germany)
Many great boxers from the 1990's including James Toney and Roy Jones to name few started their professional careers in this division but did not unify the titles before stepping up out of the division.
A couple of champions like Sven Ottke and Joe Calzaghe came close to unifying the division. In the case of Sven Ottke, he retired undefeated after unifying the WBA & IBF titles. Joe Calzaghe captured the IBF title along with his WBO title only to get stripped of the IBF title before eventually going on to capture the WBA and WBC titles before stepping up to the light heavyweight division in 2008.
In 2013, we had anticipated that WBA Champ Andre Ward (26-0, 14KOs) the top rated fighter in the division by virtue of beating Mikkel Kessler, Authur Abraham, and Carl Froch the respective champions of the WBA, WBO, and IBF in the Super 6 tournament was on a collision course with these champions looking to avenge their respective defeats to him.
That did not play out as anticipated in 2013 or 2014 as Andre Ward has been kept out of the ring due to an ongoing lawsuit he filed against his now late promoter Dan Goosen to sever ties. That lawsuit has kept Ward out of the ring throughout 2014, after previously fighting once in 2012 and 2013.
In the meantime, Anthony Dirrell (27-0-1, 22KOs) seized the WBC belt from Sakio Bika to become the new champion, he has no animosity against any of the rival champions and is most likely set to make the mandatory defense of his titles within the WBC.
2014 was the year of former champion Authur Abraham (41-4, 28KOs) as he rebounded to regain the WBO title over Stieglitz in a rematch in March. He went on to make two defenses of his title to round out 2014.
In regards to unification, a fight between Ward and old rival Carl Froch (33-2, 24KOs) seemed possible in 2014, but Froch got sidetracked from that path after his controversial victory over George Groves in 2013. He emphatically knocked out Grooves in the rematch in 2014 to douse any lingering doubts about his abilities and has re-stated his intention of getting a rematch with Ward.
However Ward's lingering legal issues might not let that happen very soon, and the WBA has taken matters into its hands and elevated Ward to super champion while Froch is now its world champion. Froch also holds the IBF title basically making him the unified champion of the division. Mostly because the rematch with with Ward is unlikely to happen anytime soon, Froch is now currently engaged in talks to face Julio Cesar Chavez Jr the popular son of Mexican legend Julio Cesar Chavez in what looks to be a super fight.
This division is ripe for another tournament as the game of musical chairs in the division has once again returned former Super 6 participants Froch, Abraham and by extension the brother of Andre Dirrell back by the close of 2014. It might not be entirely far-fetched to imagine another Super 6 tournament in the later half of 2015 if Ward can put his lawsuit against Goosen's estate behind him and step into the ring.
It would be great for unification if Authur Abraham would attempt to seize the WBF title from Bernard Donfack (21-11-3, 11KOs) in an all German clear the deck championship fight to increase his appeal to the rival champions. If Dondack upsets Abraham it becomes even more enticing as these supremely confident rival champions will see a golden opportunity to swoop in and seize two titles.
However, it plays out all these champions are all on a collision course with Ward in a battle for supremacy of the super middleweight division and Ward might not necessarily be the last man standing if he engages any of these old or new foes in 2015.
Middleweight (160 lbs)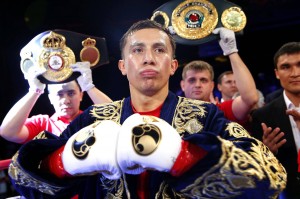 WBA Gennady Golovkin (Kazakstan)
WBC Miguel Cotto (USA)
IBF Jermaine Taylor (USA)
WBO Andy Lee (UK)
WBF – Isaac Rodrigues (Brazil)
IBO Gennady Golovkin (Kazakstan)
Back in 2001, Don King Productions staged a tournament in which Bernard Hopkins emerged as the unified and undisputed middleweight champion after stopping Felix Trinidad. Hopkins made several defenses as the unified champion before losing his titles to Jermaine Taylor. Taylor was forced to vacate the IBF title shortly thereafter and this division that once featured the legendary Marvin Haggler in its ranks has not had a unified and undisputed champion ever since.
2014 however brought a lot of excitement to the division with boxing super star Miguel Cotto (39-4, 32KOs) shocking the boxing world by defeating previously #1 rated Sergio Martinez to seize the WBC title and earn the ring magazine belt.
Former unified champ Jermaine Taylor (33-4-1, 20KOs) secured an unearned title shot due to his affiliation to powerful boxing manager/advisor Al Haymon and surprisingly seized the IBF title from defending champ Sam Soliman.
In what remains a mystery, Peter Quillen suddenly relinquished his WBO title without specific reasons and Andy Lee stopped Matt Korobox in six rounds to capture the vacant title.
Also in 2014, rising undefeated star Gennady Golovkin (31-0, 28KOs) further stamped his supremacy in the division by crushing Daniel Geale and Marco Antonio Rubio to retain his titles.
The exit of Quillen from the championship ranks basically slowed down the momentum for unification in this division, and now Golovkin who has basically ran out of worthy opponents is being tempted to step up to the Light Heavyweight division for a super fight with Andre Ward. The WBA has prepared for that eventuality by crowning Daniel Jacob as the interim champ.
Jermaine Taylor on his part is set to make his first title defense against former titlist Sergio Mora sometime in March 2015. Thereafter he looks to get embroiled in defending himself against charges stemming from a violent altercation afterwards making him unavailable. If he can get past Mora he might have to grant Sam Soliman a rematch, or face another mandatory challenger.
Upstart Miguel Cotto is too small to challenge Golovkin, and everyone knows it, and his team is more interested in a super fight with former WBA/WBC welterweight champion Saul Alvarez. If boxing operated the way it should a good challenge for newly crowned Cotto would be a fight with the relatively unknown WBF champ Isaac Rodrigues (21-2, 17KOs) in a fight he may be favored to win. In fact any of the other champions who on paper look vastly more experienced that Rodrigues could go to Brazil and attempt to pick up a buck and a title. A win would justify the risk, a loss might encourage a rematch and help bring more fans into the sport of boxing.
Recently crowned WBO Champ Andy Lee (34-2, 24KOs) looks likely to make a mandatory or soft defense in the UK so it is very unlikely that even partial unification could occur in 2015, maybe in 2016.
Let us keep dreaming downwards, shall we.
Super Welterweight/Jr. Middleweight (154 lbs)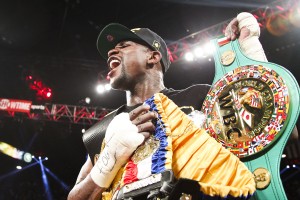 WBC – Floyd Mayweather (USA)
WBA – Floyd Mayweather (USA)
IBF – Cornelius Bundrage (USA)
WBO – Demetrius Andrade (USA)
WBF – Sasha Yengoyan (Belgium)
IBO – Zaurbek Baysangurov (Russia)
Former IBF champ Ronald "Winky" Wright was the first undisputed champion of this division when he defeated Shane Mosley to seize his WBA & WBC titles, but his reign was short-lived. He was stripped of the IBF title for accepting the rematch against Mosley a few months later. Since then only Floyd Mayweather has come close to unifying the titles. Mayweather currently holds the WBA and WBC titles.
Cornelius Bundrage (34-5, 19KOs) returned to the championship picture with a victory over Carlos Molina to regain the IBF belt. Both IBO Champ Baysangurov (29-1, 21KOs) who has not fought since winning the title in April 2014 and WBF Champion Sasha Yengoyan (31-1, 21KOs) are both unknown and it will be a monumental but not entirely impossible to get them into the unification sweepstakes.
Floyd Mayweather (47-0, 26KO's) without question is the recognized champion of the division. He seems close to fighting Amir Khan instead of unifying the division against Demetrious Andrade (21-0, 14KOs) or Bundrade.
What is frustrating about this situation is that Mayweather can easily beat these rival champions to unify the division but the fights will not get approved by ShowTime because these fighters have no strong fan base.
This situation clearly beggars the presence of a federal boxing commission to mandate such an event as the division is so close to unification if only Floyd Mayweather and his contract with Showtime would allow his to fight his fellow champions.
There is a slight chance that we may see a unification contest in this division. A contest could happen if one of Mayweather's scheduled opponents pulls out of the fight and an offer is made to one of these champions to step in as a last minute legitimate replacement. If that happens Showtime will go full blast in marketing it as a unification fight for all its worth. It is not such a bad thing if someone could make it happen.
The good news however is that Mayweather is the recognized champion of the division without question. We only wish he earned that status via unification contest as opposed to acclamation.
Welterweight (147 lbs)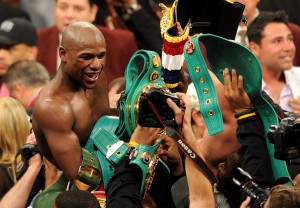 WBA – Floyd Mayweather (USA)
WBC – Floyd Mayweather (USA)
IBF – Kell Brook (UK)
WBO – Manny Pacquiao (Phillipines)
IBO – Ali Funeka (South Africa)
WBF – Rafik Harutjunjan (Netherland)
Zab Judah became the unified champion of the division after destroying Cory Spinks in nine rounds. He made just one defense of that title before losing it to Carlos Baldomir who was unable to keep the belts all together due to a sanctioning fee dispute and this division has had partially unified champions ever since.
The welterweights has always been one of the most competitive division in boxing and 2014 was no different as 2013 champions, Marcus Maidana, Timothy Bradley and Shawn Porters the respective champions of the WBA, WBO and IBF all succumbed to Mayweather, Manny Pacquaio and Kell Brook (33-0, 22KOs) respectively in 2014.
The good news for the division was the mega fight and rematch between Maidana and Floyd Mayweather that saw Mayweather (47-0, 26KOs) thoroughly outclass Maidana in a landslide to unify the WBC and WBA titles.
For the past three years, the greatest fight that remains too made is a super fight between Floyd Mayweather and Manny Pacquaio (57-5-2, 38KOs) but that fight has not happened yet. Pacquaio instead fought and defeated tough as nails Timothy Desert Storm Bradley to seize his WBO title. For lack of better options, he engaged in a soft title defense against rising star Chris Algieri in 2014.
Boxing has been crying for a fight between Mayweather and Pacquaio, but for reasons that defy understanding as they have been shrouded in mystery that fight has not happened yet, However, both fighters are slowly being maneuvered into a mega fight that looks set to happen in May or late 2015.
It is safe to predict that this fight will happen, as Mayweather has to fulfill the contract he signed with ShowTime regarding pay per view purchases and there is no other fighter out there to draw in the gate for ShowTime to recover its investment than a fight between Mayweather and Manny Pacquaio.
Even newly reenergized former boxing champion turned promoter Oscar De la Hoya, the president of Golden Boy Promotions has expressed his interest in making the fight happen and he and rival promoter Bob Arum who represents Pacquaion have inferred that the will work together for the benefit of the sport.
Based on that willingness between those two to work together this fight might finally be upon us, the question is who do you think will emerge as champion, will it be Pacquaio or Mayweather.
Even if the fight between Pacquaion or Mayweather gets delayed we hope that HBO could sponsors a unification tournament to crown a champion to take over or challenge Mayweather before he retires from the ring.
Another possibility for unification could happen if the flamboyant Mayweather decides to go on a world tour after his Showtime contract and venture to South Africa and the Netherlands to attempt to pick up the IBO and WBF titles from the popular Funeka (36-4-3, 29KOs) in a soccer stadium in Soweto and Rafik Harutjunjan respectively.
He would be wined and dined by the royalty of the Netherlands and add the rabble from South Africa into the Team Money Mayweather Fan Club. Has everyone forgotten Zaire
Let us keep dreaming on shall we.
 Super Lightweight/Jr. Welterweight (140 lbs)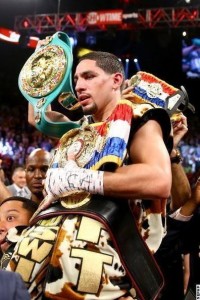 • WBA – Danny Garcia (USA)
• WBC – Danny Garcia (USA)
• IBF – Lamont Peterson (USA)
. WBF – Zolani Marali (South Africa)
• WBO – Vacant
Kostya Tszyu was the last champion in this division after defeating Zab Judah to unify his WBA and WBC belt with Judah's IBF belt.
He was eventually stripped of some of these titles and boxing has not had a unified champion since.
Presently Danny Garcia (29-0, 17KOs) who currently holds the WBA & WBC titles is ring magazine champion of the division following his sensational knockouts of both Amir Khan and Eric Morales in 2012 and Zab Judah and power punching slugger Lucas Mattysse in 2013.
Chris Algieri (20-1, 8KOs) controversially upset Ruslan Provodnikov to become the champion only to get rightfully stripped by the WBO for stepping up to the welterweight division to fight Manny Pacquaio in a mega money fight, he lost that fight and the WBO belt is still vacant at the close of 2014.
In 2014, we had hoped that Peterson (33-2-1, 17KOs) would be on a collision course with Garcia in a fight that would do well at the box office due to the marquee status of these American based fighters. The fight never happened however, and both both engaged in meaningless title defenses.
The unknown and previously unbeaten IBO & WBA Interim titlist Khabib Allkhverdiev (19-0, 9 KO's) lost his titles to Jesse Vargas (26-0, 9KO's) who is breathing fire into the division, but he was stripped of the IBO title and is now the WBA World champion while Garcia is the super champion. The WBF's Zolani Marali (24-5, 13KOs) presents an opportunity for one of these champions to test uncharted waters and leave the complications of American based boxing for a quick second to add to his marque value.
This division is ripe for a tournament if any of the cable networks decides to take a chance but unless such a unification tournament takes place, look for the division to remain partially splintered into 2016.
But not to worry, Danny Garcia is intent on remaining the dominant champion in the division and will not be letting go of his WBA or WBC titles anytime soon, even if he you agree that he got a gift decision in his last fight.
Lightweight (135 lbs)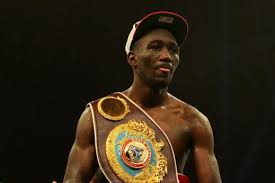 • WBA – Richard Abril (Cuba)
• WBC – Omar Figueroa (USA
• IBF – Micky Bey (USA)
• WBO – Terence Crawford (USA)
Back in 1990, Pernell Whitaker unified his IBF & WBC's titles with Juan Nazario WBA title to become the undisputed champion of the division. He made three defenses before stepping up out of the division. Different champions then held the titles until Juan Diaz unified the WBA, WBO and IBF titles in 2007, he lost them to Nate Campbell who vacated all the titles because he could not make weight and new champions carved out the titles into fiefdoms once again.
In the past two years there have been a couple of sit tight champions at each of the organizations, but in 2014 the division got an dose fresh air as Terrence Crawford (25-0, 17KO's) emerged from near obscurity to dismantle Ricky Burns to seize the WBO title in 2014. He followed up that shocker stopping Gamboa in nine rounds and seared his legend in the minds of boxing fans with that performance. He followed that performance by outclassing the rugged Raymundo Beltran over 12 round to make his second title defense all in 2014.
2014 was also the year of Omar Figueroa (24-0-1, 18KO's) as he captured the WBC strap and made one defense battering Daniel Estrada into a ninth round rout. He is an exciting fighter and based in Texas so it is likely that a super fight with Figueroa may happen.
Mickey Bey (21-1-1, 10KOs) also made an entrance into the pictures by defeating Miguel Vasquez in September to become the new champion. Cuba's Richard Abril (19-3-1, 8 KO's) on the other hand made only one defense of his title in 2014.
With five different champions scattered across the globe it is highly unlikely that unification can happen in 2015, but Terrence Crawford is the spark that can ignite that fire. However, there will be monumental hurdles to cross before any of these unification fights can be arranged.
Crawford is now the ring magazine champion. We just wish he had earned that accolade via unification.
Super Featherweight/Jr. Lightweight (130 lbs)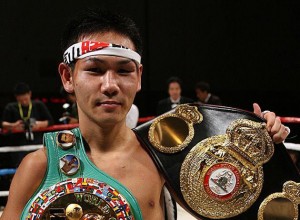 WBA – Takashi Uchiyama (Japan)
WBC – Takashi Miura (Japan)
IBF – Rances Barthelemy (USA)
WBF – Harmonito Dela Torre (Phil)
WBO – Orlando Salido (USA)
Back in the nineties, there was a lot of excitement in the Super Featherweight division when fighters like Diego Corrales, Azumah Nelson, Floyd Mayweather, Barrera Eric Morales, Acelino Frietas, Oscar De La Hoya, and even Joel Casamayor ruled, partially unified and passed through this division. Presently we have a gang of champions at each of the various organizations.
Takashi Miura (28-2-2, 21KO's) who had an active 2013 including winning the title and making two defenses only made one defense in the whole of 2014. The same story was true for Takashi Uchiyama (22-0-1, 18KO's) who began his reign in 2010 the ring magazine champion for the division only managed to make one defense of his title in 2014 in the Japanese year end tournament.
Orlando Solido (42-12-2, 29KO's) made two very tough defenses of his WBO titles against of Lamachenko and Kokietgym, he might be embroiled in more mandatory defenses before he can turn his attention to his rival co-champions.
Kid dynamite Barthelemy (21-0, 12KO's) had a very active 2014 including winning the title and making two successful defenses. 2014 IBO champ Australia's Tom Wilkonson fell off the radar
This division is ripe for a tournament and the lack thereof beggars the presence of an international commission mandated to ensure that it happens as all these champions are incredibly tough and popular and there will be a mountain of money to make especially if it is held in Japan or anywhere for that matter.
In 2014, we had hoped that Takashi Uchiyama and Takishi Miura would have been featured in the year-end Japanese tournament since they are both from and based in Japan, but that match up unfortunately never took place.
It would be helpful if the Takashi clan could settle its leadership crises with the winner making a reckless lightning strike gamble against Solido and Barthelemy, but determining at which point at sea to pitch the battle might be too complicated to arrange in 2015, it might just be easier to attempt to dominate Asian by attempting to pick up Phillipines Harmonito Dela Torre WBF title first.
Featherweight (126)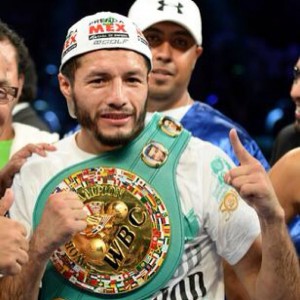 • WBA – Nicholas Walters (Jamaica)
• WBC – Jhonny Gonzalez (Mexico)
• IBF – Evgeny Gradovich (USA)
• WBO – Vasyl Lomachenko (Ukraine)
. WBF – Timur Akhundov (Ukraine)
. IBO – Lusanda komanisi (South Africa)
The championship picture in this division remained relatively stable in 2014 after a very competitive 2013 that saw Daniel Ponce De leon (WBA), Billy Dib (IBF), and WBA's Chris John all get dethroned in 2013.
Simpiwe Vetyeka the only unified titlist in the division at the beginning of 2014 lost his titles to Nonito Donaire who went on to lose the WBA title to Nicholas Walters, who true to his Moniker "Axed" Donaire in the sixth round. The IBO title was not at stake in that fight so the division is back to square one with regards to having no unified champion.
Jhonny Gonzalez (57-8, 48KO's) scored two stoppages while defending his titles in 2014 and the IBF's undefeated Evgeny Gradovich (19-0-1, 9KO's) also defended his title two times, but both champions have not stridently called each other out or even appear to be aware of each other's existence.
It was a breakout year for Lomachenko who despite losing to defending champ Orlando Salido (40-12-2, 28kos) in April, bounced back in June with a split decision victory over the previously undefeated Gary Russell, Jr for the vacant title.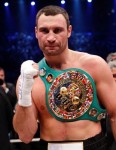 Lomachenko (3-1, 1 KO) went ahead to make one other successful and brutal defense to close out 2014. Now Instead of focusing all his efforts in North America he could return to his native Ukraine to attempt to unify his belt with that of Timur Akhundov (15-2-1, 15KOs) his fellow countryman and WBF Champ in Kiev with former WBC  heavyweight champion Vitali Klitschko the current Mayor of Kiev serving as the referee. If he wins that fight he can quickly return to North America with the added belt in tow to increase his marquee value. Boxing will just lap it all up.
Newcomer South African Lusanda Komanisi (18-3, 16KO's) picked up the vacant IBO strap but he is virtually unknown in international circles except to a couple of Boar hunters, so it is unlikely that any of the other champions will unify the titles against him.
It is doubtful that unification can happen in 2015, as these new champions might either have to make mandatory defenses before they could explore unification options. On the upside is that they may also be granted optional defenses and then we might see a clash between American based Walters, Gonzalez or Gradovich in a super fight that is bound to get rave reviews due to the violent nature through which the captured their respective titles.
Super Bantamweight/Jr. Featherweight (122 lbs)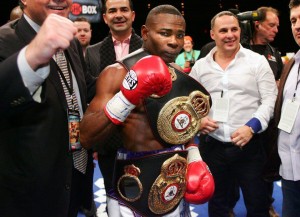 • WBA – Guillermo Rigondeaux (Cuba)
• WBC – Leo Santa Cruz (USA)<
• IBF – Carl Frampton (UK)
• WBO – Guillermo Rigondeaux (Cuba)
Despite his superior boxing skills two time Olympic gold medalist Rigondeaux (15-0, 10KO's) has not been able to generate any excitement after comprehensively outpointing Donaire in 2013 to unify the WBA & WBO titles. But sometimes be careful for the kind of champion you wish for, as Rigondeaux clinical boxing style has not endeared him to fans except to the puritans few among them, so in spite of his technical brilliance it might become difficult for the networks to justify a tournament against the other champions. His unpopularity with the networks is such that he only made one title defense in Macao and his other successful year-end title defense happened in far away Japan. He is based in the US.
Santa Cruz (28-0-1, 16KO's) held on to his WBC strap with a couple of defenses, but newly minted 2013 champion Kiko Martinez (29-4, 21KOs) got dethroned by Carl Frampton (19-0, 13KO's) just this past September.
2014 IBO Champ Thabo Sonjica was rising up the rankings until his last defense when he lost his title on the scales but he nevertheless still went ahead to defeat that opponent, but now the title is maddingly vacant. Now boxing has to wait for another fight for that vacant strap kicking forward any possible unification in 2015.
No matter what happens however, "too good for his own good Rigondeaux" is the ring magazine and unified champion of the division, which is good for the division and boxing in general even if his efforts are not appreciated by the non-puritans.
 Bantamweight (118 lbs)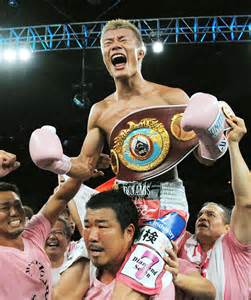 • WBC – Shinsuke Yamanaka (Japan)
. WBA – Juan Carlos Payano (Dominican Republic)
• IBF – Randy Caballero (USA)
• WBO – Tomoki Kameda (Japan)
The bantamweights is one of the most violent divisions in boxing and continued its tempo of destruction from 2013 with the dethronement of IBF's Leo Santa Cruz and the WBO'S Singyu by Stuart Hall and Tomoki Kameda respectively, to 2014 with Caballero (22-0, 13KO's) routing Stuart Hall and Juan Carlos Payano (16-0, 8KO's) decapitating Moreno to become the WBA KING.
The Empire of Japan's Yamanaka (22-0-2, 16KO's) who made three defenses of his title against foreign invaders in 2013 and went on to suppress two more insurrections against his rule against even more violent foes in 2014. The brave WBO'S Kameda (31-0, 19KO's) ventured to neighboring Philippines to successfully defend his title in 2013 and carried his campaign of dominance into the United states making two successful defenses of his title against rugged contenders, we wish there were more champions like him.
In regards to unification, we hope that the Empire of Japan with its Samurai traditions of having supreme overlords would force a confrontation between Yamanaka and Kameda to provide more clarity in the division.
As in 2014 look for each champion to mount, impregnable defenses against foreign championship invaders only to get dethroned by the contenders within their ranks in 2015. This is another division ripe for a tournament, but only a sadist would demand a tournament featuring these champions, they fireworks from such an affair might be too hard to watch and destructive to each champion's careers, so for their sakes unification might be kicked forward to 2016 unless we have the Super Bantamweight tournament II.
Super Flyweight/Jr. Bantamweight (115 lbs)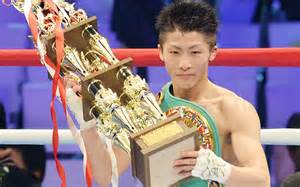 WBA – Kohei Kono (Japan)
WBC – Carlos Cuadras (Mexico)
IBF – Zolani Tete (South Africa)
WBO – Naoya Inoue (Japan)
IBO – Lwandile Sityatha (South Africa)
You cannot talk about boxing without coming up with this exciting division that once featured super star fighters like Mark Johnson, Johnny Tapia, Danny Romero, and Vic Darchinyan in its ranks in the past few years.
The competition nature of the division has not dropped off one bit as none of the 2014 champions Thailand's Srisaket Sor Rungvisai, the Japanese Daiki Kameda, Argentina's Omar Narvaez or the Philippines Edrin Dapudong the respective champions of the WBC, IBF, WBO and the IBO survived 2014, the all got stopped before the final bell in their various title defenses.
This change of guard is intriguing because neither Yota Soto (WBC), Kohei Kono (WBA) Juan Carlos Sanchez Jr (IBF) or even the IBO's Gideon Buthelezi who lost to Cadras, Kameda and Dapudong survived 2012 either.
Barring a miracle, it is unlikely that these new champions will be looking to challenge any of the other champions when they are sure to have to suppress a sweltering mass of very able mandatory challengers in their respective organizations. We can only hope that the newly crowned South African based IBO and IBF champions might unify their titles for a lack of a better promotional target.
But then of what benefit would unification mean to these rival organizations, especially to the IBO that is not a signatory to the various attempts of the big three, the WBA, WBC & IBF for some uniform groundwork for unification.
Let's move on down shall we
Flyweight (112 lbs)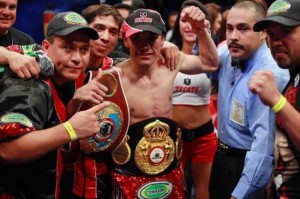 WBA – Juan F. Estrada (Mexico)
WBC – Roman Gonzalez (Nicaragua)
IBF – Amnat Ruenroeng (Thailand)
WBO – Juan Francisco Estrada (Mexico)
This division remained relatively stable with only the IBF's Moruti Mthalene and the WBC'S Akira Yaegashi losing their titles to Ruenhroeng and Gonzalez respectively in 2014.
Mexico's Juan Estrada (31-2, 22KO's) stamped his supremacy over the division by making two valiant defenses against tough foes. He also holds the WBA and the WBO titles although we are unsure why his titles at stake in his last fight in December.
Roman Gonzalez (41-0, 35KO's) dethroned Yaegashi for the WBC in September and two short months later he went on to stop Rocky Fuentes to keep his title. South Africa's Moruti Mthalene also seized the title in 2014 and made one successful knockout defense.
2014 was a great year for Thailands Amnat Ruenroeng 14-0, 5KO's) as he not only seized the IBF title from Rocky Fuentes, he went on to make two defenses as well. He is now scheduled to face two-time Olympic gold medalist Zou Shimming in March 2015.
As stated Estrada is the number one ranked fighter in the division and deservedly so, but if Zou Shimming can unseat Ruenroeng things are going to get pretty exciting in that division and there may be a groundswell of demand for unification giving his marquee value that can be pushed by Top rank his promotional company.
Japan has lost its seeming strangle hold on this division and this has to hurt their Samarai pride so it is quite possible some of these champions might be lured to into their year-end tournament against Japanese contenders, if that ever happens there could be a couple of upsets that would kick any unification talks into 2016.
Keep on dreaming please, we are not done yet.
Junior Flyweight/Light Flyweight (108 lbs)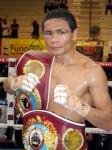 WBC – Vacant
WBA – Alberto Rossel (Peru)
IBF – Javier Mendoza (Mexico)
WBO – Donnie Nietes (Philippines)
IBO – Rey Loreto (Philippines)
This division features fighters who throw a million punches a round and after one fight too many, these champions are to debilitated to make much of a defense as exemplified in this division where only WBO champ Donnie Nietes (34-1-4, 20KO's) survived a tough year in the division in 2014.
The anticipated fight between 2014 champions Donnie Nietes and IBF champion John Riel Casimero did not take place as Casimero lost his IBF title on the scales killing off any traction towards an all Pilipino unification super fight.
All the champions besides Nietes are still wet behind the ears and they dust has barely settled from their violent title captures. They will need time to heal and contemplate their next move.
But with Japan's Kazuto Ioka violent departure from the championship ranks it is possible that one of these champions might be lured into a Japanese year end tournament, but not necessarily before a few of these champions succumbs to an uppercuts in a title defense to further kick unification into 2016.
We are almost done here.
Strawweight/Minimumweight/Mini-Flyweight (105 lbs)
WBA – Hekkie Budler South Africa
WBC – Wanheng Menayothin (Thailand)
IBF – Katsunari Takayama Japan
WBO – Katsunari Takayama Japan
WBF – Luyanda Nkwankwa (South Africa)
IBO – Hekke Budler (South Africa)
For a weight class that features the smallest men in boxing, it sure has been the most competitive and most active. Besides the Light Heavyweight division, this is one of the few divisions has provided some glaring clarity about its top rated fighters, but not before a turbulent game of fistic musical chairs.
At the WBC, 2013 champion Xiong Zhao Zhong after a previously successful year quickly lost his title to Oscar Novoa by a 5th round knockout in Febuary 2014. The new champion made one defense but ultimately lost the title to Menayothin (36-0, 12KO's) in November of the same year.
The WBO's 2014 Merlito Sabillo rode into 2013 with an impressive two wins and one draw before losing his title by 10thround knockout to Francisco Rodriguez. The new champ then went on to unify his WBO with the IBF belt over Katsunari Takayama via a twelfth round decision. However, in mysterious circumstances he seems to have abdicated the title after that victory as he had one more fight in 2014 without his belts at stake.
Takayama (28-7, 11KO's) rebounded from that defeat to capture those titles with his seventh round destruction of Go Odaira in the year-end tournament in Japan. He is currently the WBO and IBF champ.
Not to be outdone, the WBA also had a change in guard as 2013 titlist Ryo Miyazaki vacated the title allowing for interim titlist Hekke Budler 27(9)-1-0 to stop Karlius Diaz in the very first round to unify his IBO title with the vacant WBA World title in March 2014. Budler solidified his supremacy in the division by successfully defending both his titles against former champions Pigmy Kokietgym and Xiong Zhao Zhong in 2014. He could take it one step forward by granting a rematch to 4th round knockout victim Luyanda Nkwankwa (7-10-1, 4KOs) just for the sake of picking up his newly acquired WBF title to give him more of a bargaining chip in negotiations with any of the rival champions. How can he stand to have a rival champion in his fiefdom anyway. Someone please bring the Nkwankwa insurrection to his attention please.
It has obviously been a competitive and ever changing picture in this division but heading into 2015 they division has two unified champions Hekke and Takayama and spoiler Wanheng Menayothin.
From the way the division has evolved, it is becoming obvious that both Hekke and Takayama are on a collision course for supremacy of the division as both fighters have not restricted their campaigns to their domains, and have attacked and defeated other champions from around the globe.

It is entirely plausible that Japan is desperate to regain supremacy of the minimum weight division and will host another year-end tournament to draw not only Hekke Budler but also Menayothin into the ring to lose his titles so Japan can gain either regain those titles or gain absolute supremacy of this division.
If there was any time for boxing to begin beating its drum for unification, this division warrants it, as it would signal that boxing intends to crown unified and undisputed champions all the way from the minimum weight to the heavyweight Division.
See you in 2016
*****************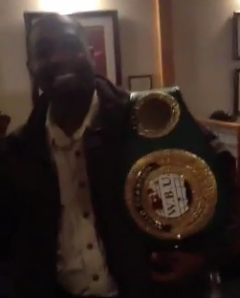 Michael Amakor has maintained this column since 2008. You can check out last years edition by clicking "United and Undisputed Championship Hopes for 2014". You can contact Michael by email at mamakor@fightkings.com. You can also find and follow him on Facebook.