Bermane Stiverne, Dierry Jean, Antonin Decarie, Ghislain Maduma
'Fight Club Series' PPV March 28, Live from Hilton Lac Leamy in Canada
MONTREAL – Eye of the Tiger Management (EOTTM) has been developing world-class boxers in Canada the past few years and now, thanks to its hi-definition network (PunchingGrace.com) and popular Fight Night Series, American fight fans may watch top contenders and prospects from North of the Border before they fight on United States-based networks like HBO, Showtime and ESPN.
The seventh installment of the popular Fight Night Series will be Friday night,March 28, featuring World-rated welterweight Antonin Decarie (29-2, 9 KOs), also airing live on pay per view from Lac Leamy Casino in Gatineau, Ontario, Canada.
Fight Club Series, presented by Eye of the Tiger Management (EOTTM), is being distributed in the United States by Integrated Sports Media for live viewing at 7:00 p.m. ET – 4:00 p.m. PT on both cable and satellite pay-per-view via DIRECTV, iN Demand, DISH, and Avail-TVN.  The event may also be watched worldwide on PPV at www.PunchingGrace.com.
"We're giving our fighters opportunities to be seen fighting outside of Canada, through PunchingGrace and PPV in the US, by expanding our borders," EOTTM promoter Camille Estephan explained. "Their fights will be available to watch in close to 70-million U.S. households alone."
EOTTM heavyweight Bermane "B. Ware" Stiverne was virtually unknown in the U.S. until his last fight, in which he won a unanimous decision on HBO in convincing fashion against Chris Arreola.  WBC #1 Stiverne and #2 Arreola will fight again May 10 on ESPN, at a site to be determined, for the WBC title vacated by retired Vitali Klitschko.
Stiverne's stable-mate and fellow Haitian, junior welterweight Dierry "Dougy Style" Jean (25-1, 17 KOs), was introduced to the American public on ShoBox, which led to him challenging IBF world champion Lamont Peterson.  Jean lost a 12-unanimous decision but proved that he belong among the elite 140-pounders in the world.
"People all over the world are going to know Bermane because of the exposure he's going to get fighting on ESPN (not ESPN2 that Friday Night Fights is on), but the main ESPN station that shows professional football and other leading sporting events," Estephan said.  "He is fortunate to have that window of opportunity.  He's a heavyweight with power and balls who has the footwork of a lightweight.  He's deadly serious about what he's doing.  We don't just want him to win the world heavyweight title, we want him to win and defend it many times. He's not looking past Arreola and is preparing to fight him like they've never fought before.  They're the top two heavyweights in the world without a world title.
"Dierry Jean didn't lose to Peterson because of his ability.  Peterson was at his best, his experience and ability to adjust were the difference.  Dierry will be fighting in late April, early May, on his way back to the top.  He also has the advantage of being able to fight at junior welterweight or lightweight."
WBC #8/IBF #13 Decarie burst on the American boxing scene on HBO, when he upset previously unbeaten Alex Perez, and the popular French-Canadian parlayed that into another high-profile appearance on HBO, albeit losing a 10-round decision to Luis Carlos Abregu.
Decarie faces former Mexican champion Pablo "Sepulturero" Munguia (19-4, 11 KOs) Mar. 28 in the 10-round main event.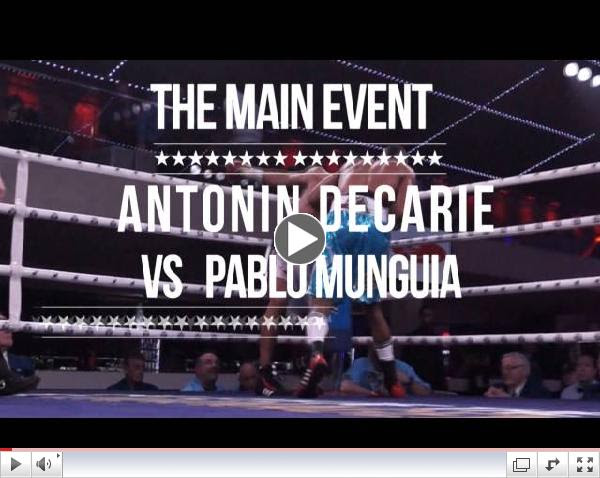 Antonin Decarie vs. Pablo Munguia LIVE on Pay Per View March 28th at 7 pm EST
The next EOTTM hidden jewel who most American boxing fans may not know yet is WBC #3/IBF #5 lightweight Ghislain "Mani" Maduma (16-0, 10 KOs), the reigning NABA and NABF champion.  "Maduma is going to burst on the scene – the same show as Dierry fights – in an IBF eliminator," Estephan noted.  "People watching him fight are going to ask where this guy came from because he hasn't fought on a major network yet.  He is an awesome talent."
The next wave of EOTTM fighters soon to be introduced to American fans include super middleweight Schiller Hyppolite (8-1, 5 KOs), who takes onGeorge Beroshvili (8-1, 5 KOs) in a 10-round bout on Mar. 28.
"Schiller has tremendous talent and the super middleweight division is big in Canada having produced Lucian Bute, Jean Pascal and Adonis Stevenson," Estephan concluded.  "He learned from his only loss and had to make an attitude adjustment.  Another fighter who is going to make big news is welterweight Mian Hussian.  He has two brothers who are fighters and all they do is box – sleep, eat, train — and then do it all over again the next day. He has a lot of power, plus he's fast and mean.  All he lacks is experience. And don't forget middleweight (IBF #8, WBO #11, WBC #13) David Lemieux (31-2, 29 KOs).  He came up a little too fast but now he's back and we'll have some big news about him very soon. And we just signed Steven Butler, a promising 18-year-old who was the youngest Canadian National Team champion."
Other Mar. 28 undercard fights include lightweight Chris Plaitis (5-0-1) vs.Jesus "Diamante" Perez (4-2, 2 KOs) in a six-round match; super middleweight Pascal Villeneuve (3-0, 2 KOs) vs. Francois "The Tank" Miville (6-1, 2 KOs) and Mitch Louis-Charles (3-1-1, 2 KOs) vs. Guillaume Coude (2-0, 1 KO), cruiserweight Samer Baraket (2-0, 2 KOs) vs. Sandy Pembroke (3-7, 1 KO), and heavyweight Zack Bunce (2-0, 1 KO) vs. Steven Harvey (4-1, 2 KOs) in four-round fights.
All fights and fighters are subject to change.
For further information about EOTTM and Punching Grace, as well as the Mar. 28 show, please visit www.eottm.com, www.PunchingGrace.com orwww.IntegratedSportsNet.com, or follow on Twitter @eotmvd and @IntegratedPPV.